Trailer Park Boys: The Movie - Update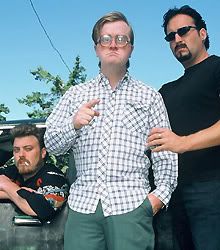 It looks like I've had my head in the sand for quite some time on this, but now that I've pulled it out it's time to share my findings with you good people! I've known for a while that there was talk of a Trailer Park Boys movie, but I didn't realize just how far along it really was. It seems that Ivan "I ain't afraid of no ghosts" Reitman is a big fan of the series, and is using his talents to finance the production and grease the right Hollywood wheels. Series creator Mike Clattenburg will helm the picture and I can confirm that Ricky, Bubbles and Julian will all be played by the same actors. Whether or not the rest of the cast will be bringing their roles to the big screen in unknown, but I'd be surprised (and thoroughly disappointed) if they didn't. The soundtrack, in perfect Canadian white trash tradition, will feature RUSH (reportedly during a helicopter chase scene. Why is there a helicopter chase scene in my TPB Movie?) Production begins in Nova Scotia on June 27th.
Here's an interesting tidbit for you. Did you know that this will actually be the second Trailer Park Boys movie? The series started out as an independent film, and was so well liked that Showcase offered them a series. Bubbles was not in the original film, however, you can still find actor Mike Smith in the credits as the Sound Guy. Creator Clattenburg liked Smith so much that together they created the role of Bubbles for the series.