These McFries McFuckin' Suck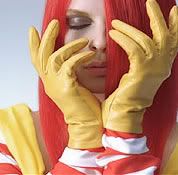 Anybody who knows me, sadly, knows what a McDonald's hog I am. I'd take Chicken McNuggets over Chicken Kiev anyday. That's why I was so excited when I stumbled across this link.
McMenu
offers recipes for copycat versions of nearly everything on the McDonald's menu, right down to the Shamrock shake. And since you'll be making the food yourself, you'll have control over the quality of the ingredients. For example, you can use real chicken breast over processed chicken. As a matter of fact, the healthier choices seem to be what these copycat recipes call for. Now if you'll excuse me, I have a Big Mac to make.
Morgan Spurlock can suck my ass.