Return of the ViewMaster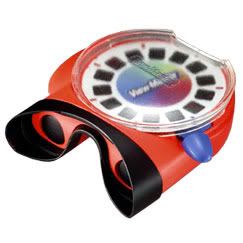 Doesn't the title of this post sound like a craptacular Batman episode circa Adam West? But I digress..
Remember ViewMaster? That really funky 3D viewer we all had as kids? It's back, complete with paper discs and all. As you can see, the outward appearance of the ViewMaster has changed a little, but I assure you, it still works just like it did back in the good old days. Unlike most toys from my childhood that undergo drastic overhauls for the new generation, I actually like the new look of the ViewMaster. The old one always seemed so clunky.
I had the good fortune to stumble across these in a Toys'r'us the other day, and let me assure you, they're just as cool as you remember them. You can visit
Fisher Price's official ViewMaster website
here for more info on the latest incarnation of the ViewMaster.