Queer Eye for the Right Wing Homophobe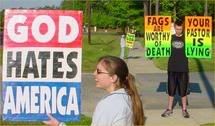 Let's all give it up for C.Monks! C. Monks, blogger, has taken a handful of pictures of the Westboro Baptist Church's protest against gays and used them as a chance to critique the group's fashion sense.
Here's an excerpt from this photo's write up; "I like the sunglasses the woman is wearing. They're small and trendy and fit her face nicely. She's appears very happy about them, too. Or maybe she just heard a funny homophobic joke."
Click here
for the whole fashion parade. And when you're done,
explore the rest of his site
. It's well worth the visit.