Make Your Own Super Mario Blocks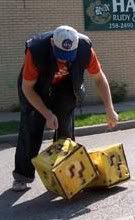 Someone in Windsor, Ontario, took it upon themselves to beautify their town by building life size Super Mario blocks and hanging them all over the city in trees and on power lines, complete with power ups. I'm not sure that any of you would actually WANT to do this, but I definitely thought this was cool enough to warrant a post.
Click here
for directions on how to make these, along with great pictures of their little project in action.