Make Your Own CD Lamp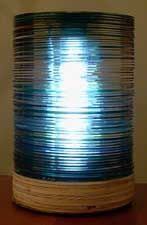 We all have dozens upon dozens of useless CD's that have been scratched, mangled, or burned wrong. For most of us, these wind up as coasters, frisbees, litter, you name it. But for Jim Watters, these shiny bits of trash are lighting his home.
On
Jim's website
, he'll show you how to take a stack of CD's and turn them into a very funky lamp!