Kevin Smith Directing Degrassi Movie?!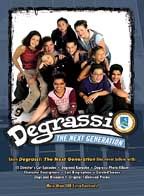 Wow - it looks like somebody let the cat out of the bag! From
Hollywood North Report
, and I quote - "Toronto's Epitome Pictures, with support from federal agency Telefilm Canada, are developing a big screen feature based on CTV's high school teen series "Degrassi: The Next Generation", with Kevin "Jersey Girl" Smith tapped to direct for a late August shoot in Toronto."
At this point, Kevin has neither confirmed nor denied this. However, NewsAskew does confirm that he had recently met with some members of the Degrassi team. Having guest starred last season for a few episodes, this may be nothing more than Kev arranging for a returning guest spot in the next season. Anything is possible until we get word from the big man himself.
But what would this mean for Clerks 2? ANOTHER production delay? As we had reported in May, production had been officially delayed until September so that Kevin could act in a new movie up here in Canada (not the Degrassi flick but some Jennifer Garner nonsense.) Would this mean yet another delay? Or was the Jennifer Garner delay just a clever ruse to keep the Degrassi production hush hush? As soon as we get word, we'll let you know.