How to Remove Windows Messenger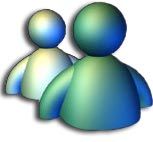 Does anybody still use the Windows Messenger that comes prepackaged with XP? I didn't think so. If you're an MSN Messenger user like myself, you've probably faced the occassional snafu or conflict with the preinstalled Windows Messenger. Even something as simple as accidentally opening the wrong one can be frustrating - and yet Windows doesn't give you a clear option for removing the program. Luckily, the internet is a wonderful resource. Follow the link
here
for two methods on removing this irritating little program. I personally had to use the second, and although it may look a little intimidating to those who have never gone beyond the add/remove programs screen before, I assure you, it's as easy as pie. Just follow the directions exactly and you'll be running Windows Messenger-free in no time.
...and for those of you still in the dark ages that actually USE Windows Messenger, do yourself a favour and
download MSN Messenger 7.0
. The program offers the same functionality and buddy list, but offers an unbelievable amount of customization and a host of new features.