GTA: San Andreas - PC Porn Hack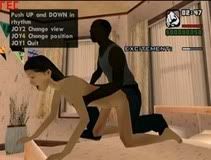 It looks like the developers of the PC version of Grand Theft Auto: San Andreas have left a little surprise in their software, just waiting for an adept hacker to come along and uncover it.
The "Hot Coffee Mod" let's you get down and dirty when a date goes right. The best part? Doing the dirty is a mini-game, very similar to the one in God of War. However, unlike the God of War mini-game, this one is QUITE graphic. I'm not about to post anything too X-rated (the pic you see here was chosen due to the lack of visible naughty bits) - however, if you follow
this link
, you can see a video of this mod in action.
If you have a copy of the PC version of GTA:SA and want to unlock all of the nastiness, the mod can be
downloaded here
.