Free Doctor Who Animated Webcasts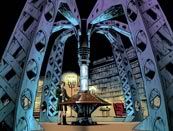 Last month I mentioned that BBC was offering free Doctor Who eBooks on their website. Now, in addition to the eBooks, the BBC is offering free animated webcasts!
It would seem that these are actually Doctor Who BBC radio plays with rather poor animation added, but they still make for fascinating stories that any fan of the Doctor would enjoy. There is even one written by the late great Douglas Adams which I quite enjoyed entitled Shada. If you're looking for a good story to fill a little part of your day,
just click here
.