Fake Rooftop U2 Concert in Manhattan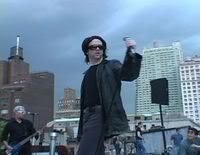 I have recently had the pleasure of discovering the antics of an NYC group of performers named "Improve Everywhere." As the tagline on their website says, "We Make Scenes." The most recent scene they've made? Pretending to be U2 and performing a rooftop concert across from Madison Square Gardens. I'd continue, but quite frankly, they tell it much better themselves.
Click here
for a rather detailed account of the days happenings.
Once you've done that, go to
their Missions page
. This page links to detailed accounts of every bizarre act they've performed, from a large group of randomly arriving people riding the subway pantless to setting up a Bathroom Attendant in the Times Square McDonald's. You've got to see it to believe it people. I only wish more people did wacky shit like this.