Even Jedi's Get Airsick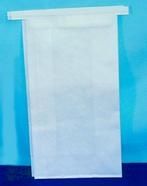 In what is easily the worst promotional item ever, Virgin Airlines now includes Star Wars Episode III air sickness bags on every flight. I could make some joke about needing one for repeated viewings of The Phantom Menace, but I'm sure it's been done. For the full story, as well as pics of the four different barf bags (unused),
click here
.
These aren't the first promotional barf bags in existence. In a far more approriate promotion, Atari released motion sickness bags to promote the X-Box game "Superman: The Man of Steel." Whether or not this was due to the flight-based nature of the or it's nausea-inducing piss poor quality has yet to be determined.
Unrelated barf bag link: Ever want to visit an online museum of air motion sickness bags?
Bagophily
has hundreds, maybe even thousands of barf bags for you to check out.