EGM #193 - New Box Art Extravaganza!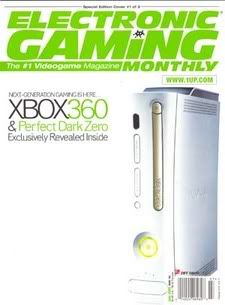 A few months back EGM offered a great freebie packed in with their magazine. They provided alternate covers for a handful of very popular games, and they were all gorgeous. Two of them (new covers for Resident Evil 4 and Metal Gear Solid 3) have replaced the original box art for the cases on my shelves. My only complaint about the freebie was that they didn't do this more often.
Well, it seems like somebody heard my cry. When opening up the wrapper around this months issue #193, I was delighted to discover that they had once again provided me some great new box art. This time around, rather than just new covers, they are providing fronts and backs. Unfortunately due to the really small amount of space available on a poster sheet, this means that that two covers share the same space (one on each side) so you can really only use 2 at a time.
This months free new box art covers are; God of War, Jade Empire, Doom 3, and The Legend of Zelda - The Wind Waker. 3 hot new releases and a classic! Good job, EGM! I would've posted some pics of the new art, but unfortunately I couldn't find any online (and sadly, I am without scanner.)
Now if you'll excuse me, I have some cutting to do.