Back in the USSA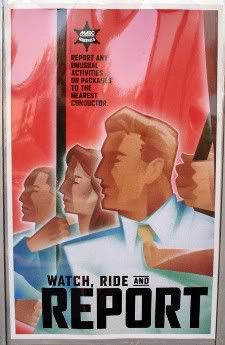 You know, for a country that's been getting a lot of bad press over the past few years, I really don't think this is going to help.
In a wonderful twist of irony, the American who designed these "Watch, Ride, Report," posters chose to do so by blatantly ripping off Stalinist propaganda. Intended to get the riders of Washington's subways to rat out their fellow passengers if they see suspicious, albeit terrorist-like activity, the "Watch, Ride, Report" posters ask you to "Report any unusual activity of packages to the nearest conductor."
What a wacky world we live in. If this makes you feel like taking a peek at some old school Soviet posters,
click here
.