Zach Braff as Smith's Fletch?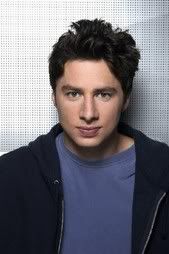 I've always loved Kevin Smith, and I've always loved Fletch. The collection of Fletch novels that I built over a summer of searching sits on a shelf not 15 feet from where I sit. So when I heard that Smith would not only be directing a new Fletch movie, but that it would be based directly on the novel Fletch Won (which is basically a prequel, telling the story of a young Fletch's first adventure) I was happier than a bootlegger in a chinese K-Mart. However, the fact that I had heard this news more than 5 years ago and knew of zero progress on the film had left me thouroughly irritated. But now, finally, there is a light at the end of the tunnel.
Zach Braff, star of TV's Scrubs and the crtically acclaimed Garden State recently met with Kevin to discuss the role. I'm not too familiar with his work, but from what I know I think it may be a good fit. I personally felt that Ryan Reynolds was born for the role - Reynolds comes across a little like a young Chevy Chase, but with the ability to act. Ironically,
the article detailing Braff's involvement
seems to focus more on Reynolds lack of involvement - stating that there had been talks about Reynolds taking the role, and quotes from Reynolds stating how he feels his style is too close to Chase's to allow the series to go in a new direction. Does this mean the movie may eventually be moving ahead? One can only hope. At this point I'd take a monkey in a Batman suit in that role, so long as it gets made.