Want to Keep Your PC Cool?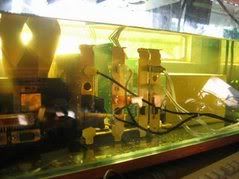 Ever worried about overheating your PC? This guy sure was, and he's come up with a solution that really makes you question his sanity. The PC in this picture is completely submerged in cooking oil. Standard, household cooking oil. In theory this should actually work.
Click here
to take a look at a dozen or so pictures of this bizarre and wonderful cooling system.