Napoleon Dynamite Action Figures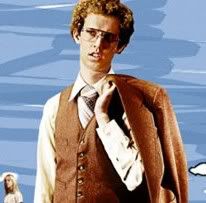 Napoleon Dynamite is one of those films that no one saw at the theatres, and then just exploded on DVD. Now everywhere you go you can find Napoleon on everything - I was actually at the mall today and the guy at the t-shirt rack was selling "Vote for Pedro" baby tees. Of course, being a fan of the movie, I'm glad to see it's getting such widespread attention.
Now it looks like Todd MacFarlane, the man behind some of the best action figures (and comics) of all time is going to be taking on the Dynamite kid. To be released in October, the first series of figures will include; Napoleon in prom suit, Napoleon in "Vote for Pedro" Shirt, Pedro, Kip, Napoleon - Tetherball Champ, and 12-inch Napoleon in prom suit.
There are no pictures of the figures yet, but as soon as I get some, I'll post them. In the mean time, more info can be found at McFarlane's website
spawn.com
.