Meiko Kaji - Free Song Downloads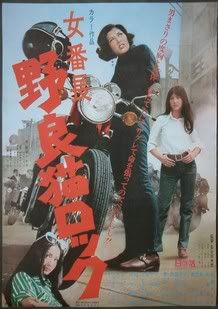 There is an absolutely haunting tune on the Kill Bill soundtrack that I just fell in love with the second I heard it. It was by a performer named Meiko Kaji, and no matter who I consulted, nobody knew who she was. Well, a little detective work later, and I've found this -
meiko-kaji.com
. It is a very well constructed fan page that details everything you could ever want to know about her and then some. For example - the reason I hadn't found anyone who knew her music was simple - she's not a musician! The website describes her as "the undisputed queen of Japanese exploitation cinema." Not being an expert on it, I'll take them at there word. Of course, with films like
Female Convict Scorpion
to her credit, it leaves little reason to doubt.
The best part about the website? Clicking on
sons
will bring up all 19 tracks from the compilation
Zenkyoku Shu
, an album compiling, from what I can tell, mostly songs she performed for the soundtracks of her films. To be honest, I'm not really finding anything that says she ever sang outside of soundtracks - but who knows? Either way, her music in amazing and has become an instant favourite for me. Go to the website and check her out.