Gold X-Box on eBay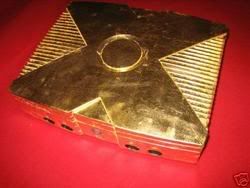 I was going to save this post for later seeing as I just posted about the gold PSP, but I figured what the hell, you can never have too much gold.
The story behind this X-Box is a little unclear. The entry on eBay is in German, and although I've translated the page, I find that, like most translated pages on the web, it reads like a paper written by an ESL student. There's just something wrong with sentences like "It concerns here a unique offer!"
To the best of my understanding, this X-Box, plated in 24 carat gold, was the prize in a Japanese gaming contest. Of course, I get this from the following translation; "World-wide there was up to now a only one golden Xbox, which received in Japan of the winners of the Xbox Games." So either this is the gold X-Box from those Games, or the second gold X-Box in existence. Either way, I really don't care. It's gold, but it kinda looks like crap.
On the bright side, it's surprisingly cheap, with the current bid around $250 CDN. Of course, since it's a European X-Box it won't plug into our outlets, and even if you have a voltage converter, a European X-Box won't play our games. Still - a cool eBay find. For more pics, including the gold plated controller (which actually looks a lot better than the system) take a looksee at the auction
here
.