Free One Year Subscription to EGM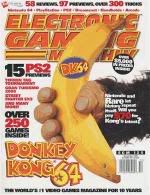 Ask any gamer worth their weight in salt which gaming magazine gives you the most bang for your buck and they'll likely say Electronic Gaming Monthly. Before you judge me too harshly for posting this link, let me say I'm not one to buy into these "get X product free by clicking here!" scams all over the internet. I certainly wouldn't sully this blog unless I was 100% sure that the offer was indeed the real deal. This is being offered by VU Games (the VU being Vivendi Universal, aka Universal Studios) and not some no-name www.freebullshit.com type website, so I have a lot of faith in this deal. Enough that I certainly filled out the form.
It's quite a simple process. By registering your game (you don't actually need to own the game to register - god bless the internet) you recieve a free one-year subscription to EGM. I was referred to this by a very reliable source with members claiming they have already recieved their first issue. When I recieve mine I'll make sure to update just so you all know this isn't a scam. If you want your free subscription, just click
here
.