Frank Gorshin, Dead at 72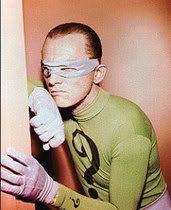 Riddle me this, Batman? What's purple and green and dead from lung cancer? Why it's Frank Gorshin, of course! Gorshin, best known for his role as The Riddler opposite Adam West's Batman, passed away Tuesday. He will be dearly missed by all.
This leaves me with one nagging question, though - why couldn't cancer take the BAD Riddler? Damn you, Jim Carrey! Damn you all the way to bad bat-villain hell! May Cesear Romero and Jack Nicholson laugh and dance upon your grave! Frank Gorshin, you will be dearly missed, and fondly remembered as the one true Riddler.