DS Software: TouchDIC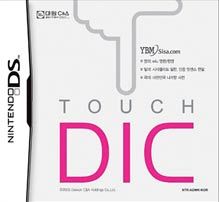 Software titles like this can only happen overseas. TouchDIC is a touch dictionary (hence the name) for the Korean market. I don't think further explanation is needed on why this is funny.
If Nintendo wants to maintain whatever image they have left, they'd better promote this with a new ad campaign. Forget the standard DS tagline "Touching is Good." I'm thinking maybe, "Touching...not so good right now. Maybe you should hold off on the dictionary and just wait to touch Mario so that...wait! dammit! Ok, let's face it, we're just 100% gay. Touch whatever you want."