Clerks 2 Update - Shooting Delayed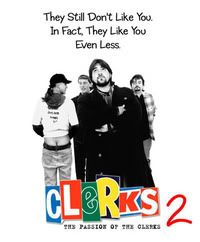 Production on the most highly anticipated movie of all time (most highly anticipated by me, anyways) has been delayed. Clerks 2 will now start shooting in September to allow Kevin to travel to Vancouver for a while to do a turn acting in Jennifer Garner's upcoming flick,
Catch and Release.
Despite the delays, one thing is for sure: This movie will be so good that just seeing it will cure cancer. For Kevin's full update and all of his past updates on the film
click here.