Batmobile on eBay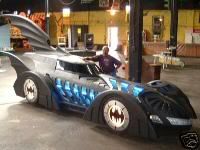 The good news? You can buy
the batmobile on eBay
for $19,000. The bad news? It's the Batman Forever batmobile. Anything that reminds anyone of Val Kilmer should be immediately incinerated without mercy.
Also - it has no engine. A batmobile you can't drive isn't really a batmobile, now is it? According to the item description, and I quote, "Although it has no engine it has small wheels and can be moved pretty easily." Wow, that's worth $19,000. I'll bid $36, but they'll have to throw in the head of Joel Schumaker.
If you want to take a look at some cool Batmobiles, your local Wal-Mart should have the Corgi die-cast models. Corgi has done a really nice job of representing a number of classic batmobiles in their line. I would've posted a link, but I can't find one!