Arrested Development Season 3 Confirmed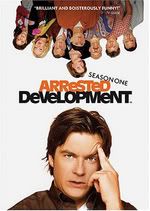 Arrested Development is hands down the best show on network tv, and yet due to poor viewership it seemed almost inevitable the show would not be returning for a third season. Mere days after the show won the emmy for best comedy series actor, David Cross went on Jimmy Kimmel Live saying that the show had been cancelled and that he had to hear about it on the internet rather than from Fox. Fox then quickly issued a statement saying that the show had in fact not been cancelled, but they refused to confirm whether or not it would be returning for a third season. Ever since then it's been a rollercoaster ride of cancelled/not cancelled rumours. The producers of the show even started a petition on the
official website
to save it.
I'm happy to report that Fox has now released their
fall schedule
and Arrested Development is indeed on it. The timeslot is moving to Monday nights at 8, and if you haven't been watching, please, start. I don't think I can take this madness again next year. If you want to catch up, the
Season One DVD
is out and pretty cheap considering how many episodes you're getting.
I'm hoping the logic behind the move to Monday is "less competition on Monday nights means more viewers" rather than "quick, we have to put Michael Rappaport on Sunday nights! What can we get rid of?" Ick. Michael Rappaport.
Can I just say putting Michael Rappaport on Sunday nights between The Simpsons and Family Guy is going to be absolute kryptonite for Fox? This is what is going to kill Family Guy again. People aren't going to sit through crap like that to get to Family Guy. Channels will be changed Fox, mark my words. Channels will be changed!